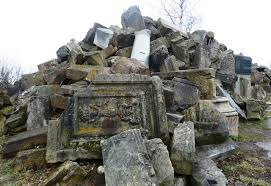 Not by might nor by power, but by my Spirit,' says the LORD Almighty. Zechariah 4:6
When the Jews finished their seventy years of exile in Babylon as punishment for turning their back on God, they finally returned to the promised land. For many Christians, this often is a very applicable metaphor for their own journey. Some of us turned away from God and did our own thing for a season and reaped the consequences for living a life of sin. For me personally, when I came back to God just over 10 years ago, my life was a mess. I had addiction to deal with, broken relationships and a mountain of debt. It was desolation and destruction as far as the eye could see.
When I heard Pastor Chuck Smith preach a message of this verse, it was a revelation. In short, Zerubbabel had just returned to Jerusalem. The walls were broken down and there was a mountain of rubble where the city had once stood. Before anyone could even think of rebuilding, the rubble had to be cleared. God spoke to Zerubbabel and told him "not by might or by power, but my Spirit," "Whatare you, O mighty mountain? Before Zerubbabel you will become level ground.The hands of Zerubbabel have laid the foundation of this temple; his hands will also complete it. Then you will know that the LORD Almighty has sent meto you. Who despises the day of small things? Men will rejoice when they see the plumb line in the hand of Zerubbabel. "
Now, ten years later, I can look back and see all of the times God has been faithful to accomplish the clearing of the rubble and the rebuilding of my life, not by my might nor by my power, but by His Spirit.
If you are new to prepping or would like to learn more about how to prepare for tomorrow, please read our 7 Step Preparedness Plan. Come back every Sunday for a new Prepper Bible Study! The most important prep of all is knowing GOD. Jesus said "what does it profit a man if he gains the whole world yet loses his own soul?" Prepper translation: "What good will it do you to survive the coming economic collapse, nuclear war or even a zombie apocalypse if you don't know you will go to heaven when you die." A recent study found that 10 out of 10 people die! On that day we will meet our Maker. It only makes sense to be prepared for that day. Click here to learn more about knowing GOD.
Prepper Recon: Sunday Prepper Bible Study – Zechariah 4:6