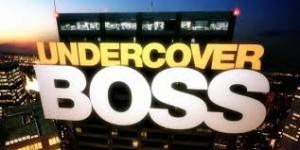 Then the righteous will answer him, 'Lord, when did we see you hungry and feed you, or thirsty and give you something to drink? When did we see you a stranger and invite you in, or needing clothes and clothe you? When did we see you sick or in prison and go to visit you?'  "The King will reply, 'I tell you the truth, whatever you did for one of the least of these brothers of mine, you did for me.' Matthew 25:37-40
I'm not a big TV guy because it is so time consuming. Besides that, most of the programming on TV ranges from moderately offensive to down right pornographic. One show my wife and I do like to watch when we need to just relax and veg out for an hour or two is Undercover Boss. If you haven't seen it, the premise is that CEOs of large corporations put on a disguises and get into the trenches with their employees. With a couple of exceptions, the show is very family friendly and you often see some very good, hard working, salt-of-the-earth people.
Today's verse tells us that essentially Jesus is doing the same thing as the CEOs on the show through those in need around us. If God has blessed you with a roof over your head, food in the fridge and clothes on your back, he expects you to help others when he puts them in your path. Not only can we help those in our immediate vicinity, but with the internet and online payment services, we can help folks all around the world.
I believe God also wants us to be good stewards with our giving. That means doing your due diligence to make sure the person or organization you're helping  uses the resources wisely. So what about the guy on the street begging for a handout? Surely he is in need, but is giving him five or ten dollars the best way to help him? Probably not. More than likely, he is in his position because of drugs or alcohol. Being someone who God has delivered from addiction, I can tell you that God can use a lack of resources as a way to bringing a person closer to him. Several addiction recovery ministries exist which offer counseling, housing, food and programs to help addict get back on their feet and become productive members of society. More often than not, giving the guy on the street ten bucks allows him to keep wallowing in his sin so he doesn't have to submit to the addiction recovery ministry.
The next time you see a homeless person that you'd like to help on the street, consider donating to an addiction ministry in your town. Teen Challenge and theSalvation Army are two that operate recovery programs all around America.
Other reputable Christian charities that help those in need are Samaritans Purse,Compassion, and Gospel for Asia.
Hope is a great organization which offers people a hand up rather than a hand out through combining micro-finance, economic education and the Gospel of Jesus.
My friend, Claudia Arango works at an orphanage called Good Sheperd's Fold in Uganda, Africa which takes in children who have no parents. Many of which have lost their mothers and fathers to AIDS.
Just like in the show, the day is coming when the Boss will reveal himself to his workers and we will each get our report.
If you are new to prepping or would like to learn more about how to prepare for tomorrow, please read our 7 Step Preparedness Plan. Come back every Sunday for a new Prepper Bible Study! The most important prep of all is knowing GOD. Jesus said "what does it profit a man if he gains the whole world yet loses his own soul?" Prepper translation: "What good will it do you to survive the coming economic collapse, nuclear war or even a zombie apocalypse if you don't know you will go to heaven when you die." A recent study found that 10 out of 10 people die! On that day we will meet our Maker. It only makes sense to be prepared for that day. Click here to learn more about knowing GOD.
Have a blessed day and happy prepping!
This article is not the property of The Survivalist News to continue reading this article please visit the original post at: