The US Department of Justice and embattled mayor Rahm Emanuel are under mounting pressure to investigate allegations of what one politician called "CIA or Gestapo tactics" at a secretive Chicago police facility exposed by the Guardian.
Politicians and civil-rights groups across the US expressed shock upon hearing descriptions of off-the-books interrogation at Homan Square, the Chicago warehouse that multiple lawyers and one shackled-up protester likened to a US counter-terrorist black site in a Guardian investigation published this week.
As three more people came forward detailing their stories of being "held hostage" and "strapped" inside Homan Square without access to an attorney or an official public record of their detention by Chicago police, officials and activists said the allegations merited further inquiry and risked aggravating wounds over community policing and race that have reached as high as the White House.
Caught in the swirl of questions around the complex – still active on Wednesday – was Emanuel, the former chief of staff to Barack Obama who is suddenly facing a mayoral runoff election after failing to win a majority in a contest that has seen debate over police tactics take a central role.
Emanuel's office refused multiple requests for comment from the Guardian on Wednesday, referring a reporter to an unspecific denial from the Chicago police.
But Luis Gutiérrez, the influential Illinois congressman whose shifting support for Emanuel was expected to secure Tuesday's election, joined a chorus of colleagues in asking for more information about Homan Square.
"I had not heard about the story until I read about it in the Guardian," Gutiérrez said late Wednesday. "I want to get more information, but if the allegations are true, it sounds outrageous."
Congressman Danny Davis, a Democrat who represents the Chicago west-side neighbourhood where Homan Square is located, said he was "terribly saddened" to hear of the allegations. Davis said he "would certainly strongly support an investigation" by the US Department of Justice, as two former senior justice department civil-rights officials urged the department on Wednesday to launch.
Earlier in the day, as a county commissioner urged the top law-enforcement investigators in the country to do the same, another reporter and photographer waited to accompany him on a visit outside the premises of Homan Square.
A man, in a jumpsuit and a ski mask, pulled out of the Homan Square parking lot in an SUV and made multiple circles before coming to a stop.
"You can take a picture," said the man, who then offered what he considered a joke: "We are all CIA, right?"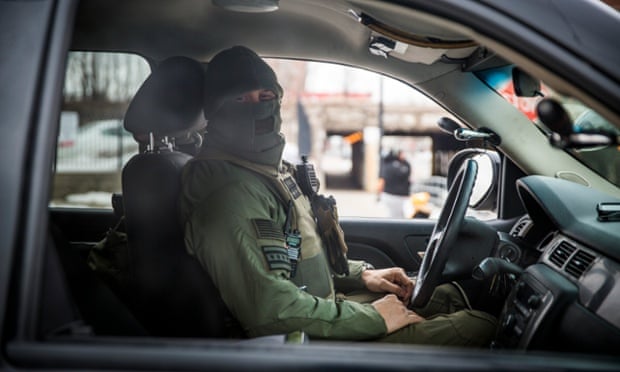 This article is not the property of The Survivalist News to continue reading this article please visit the original post at:
Not in America? Gestapo Tactics at Chicago Police "Black Site" Sets Off Alarms